Why the Wellness Critics are Really Just Bullies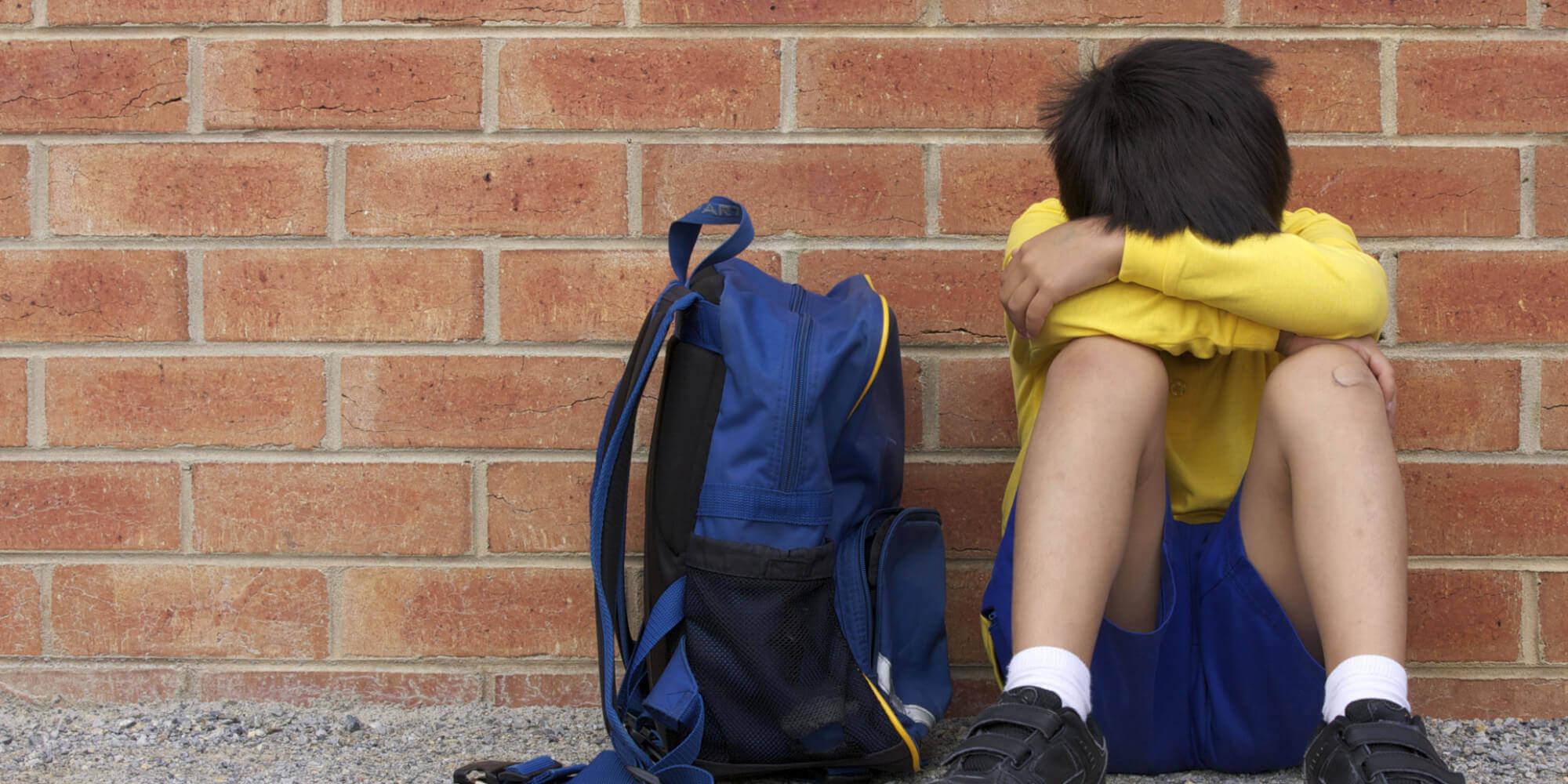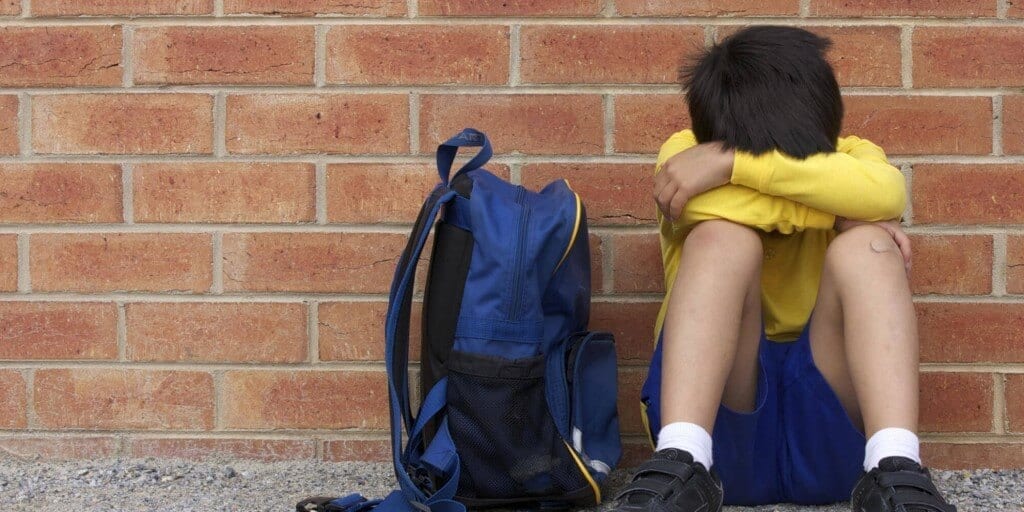 "Yes, every single wellness outcome which has been made public is made up."

"90% of wellness programs being sold to companies are "counterproductive at worse and worthless at best."

The Wellness Critics
The Wellness Critics Are Bullies
These two actual quotes from a wellness critic are so outlandish that they don't even deserve a response from anyone in the wellness industry. And this is just the tip of the iceberg. The bullying tactics employed by these critics have been directed at WellSteps, other wellness vendors, and highly respected researchers all of whom have chosen the high road and remained silent.
After all, how do you respond to outrageous statements such as these? No response has been the response of choice. It is time to share the truth about the bullying tactics used by wellness critics.
I have been in the wellness industry as a professor and CEO for nearly 30 years. I have published over 75 research articles and 7 books on this topic. Wellness is all I have ever done as a professional. Nearly everyone in the wellness industry from vendors, academics, and professionals to the people who run large wellness organizations such as HERO, WELCOA, the Health Project, and many others are all smart, caring, thoughtful and genuinely wonderful people.
The men and women who work in wellness industry are some of the finest people on the planet. The most rewarding part of my career has been the associations I've made with wellness people all around the world.
Wellness critics on the other hand, by saying "every single wellness outcome which has been made public is made up," have basically called every wellness professional- a big fat liar. This ridiculous statement implies that there is not one wellness professional with scruples.
For this criticism to be true, every wellness researcher, journal reviewer, journal editor, and academic institution associated with wellness research on the entire planet, would have to have manufactured or accepted or published fake research data. Moreover, this global wellness conspiracy would have been initiated decades ago and kept secret for nearly a century. Let that sink in for a moment.
Wellness critics who make public statements like this are like the playground bully trying to pick a fight- it doesn't matter with whom. Unlike these wellness bullies, the wellness professionals who have led the wellness industry for decades, have conducted themselves with professionalism and decency.
The next time you see a blog, a post or a tweet from one of these critics, ask yourself this question – "is this an attempt to bully?" If they have nothing constructive to say, then they are part of the problem. What follows are several ways that these wellness critics have bullied.
Extortion? Really?
Not long ago, other wellness vendors and professionals and I received an email from the wellness critics. The carefully crafted letter basically said that there would be a targeted attack published on the web. But if you paid the wellness critics $20,000, they would back off. Here are a couple quotes from one of the emails:
"You may pay us $20,000 to be removed" and "$20,000 is a very low price to pay"
This is extortion. I had never received a letter like this before. All of the national leaders in the wellness industry were stunned by this brazen demand. It was at this moment that most of us knew this wasn't normal critic behavior, this was something more sinister. Extortion? Really? In defense of critical dialogue, we live in a free country so any respectable critic in any industry can try to drive improvement by discussing things they don't like… but extortion? This was a game changer.
It makes it very clear that the wellness critics are not interested in observing and challenging the wellness industry to improve. In fact, extortion places their motives squarely in the realm of bullying. I have found myself wondering many times, "What exactly do the wellness critics want?" Since they don't really act like critics, they must want something else. I think Alfred understood this behavior quite well:
So after 30 years in the wellness industry, we are now all being challenged by a gang of wellness bullies. It would be one thing to invest a significant amount of time publishing twisted facts, insults, and criticisms which these critics tend to do. But trying to extort money is another thing entirely. Extortion is a tactic only used by bullies. When confronted about this one wellness critic angrily responded:
So sue me! But remember, I do all my own cross examination and was a quarter-finalist in the Harvard Law School moot court competition. This will be a lot of fun. I'll be blogging the whole thing.
The Wellness Critics Send Lots of Threatening Letters
The wellness bullies want to get the wellness researchers fired from their jobs. During the past few years the wellness bullies have sent slanderous letters to deans, presidents, and department chairs at many of the country's top universities. The purpose of these letters is to get certain health and wellness professors and researchers fired or reprimanded. I know several researchers who have received such letters and there are likely many more.
These letters claim that the professors have failed to conduct their science correctly, falsified their data, and taken kickbacks from the wellness industry. All of these researchers are some of the nation's most accomplished research scientists with the nation's highest academic credentials and thousands of published research projects. Few academics are able to attained this level of research expertise. Here is the actual letter that the wellness bullies sent to one dean.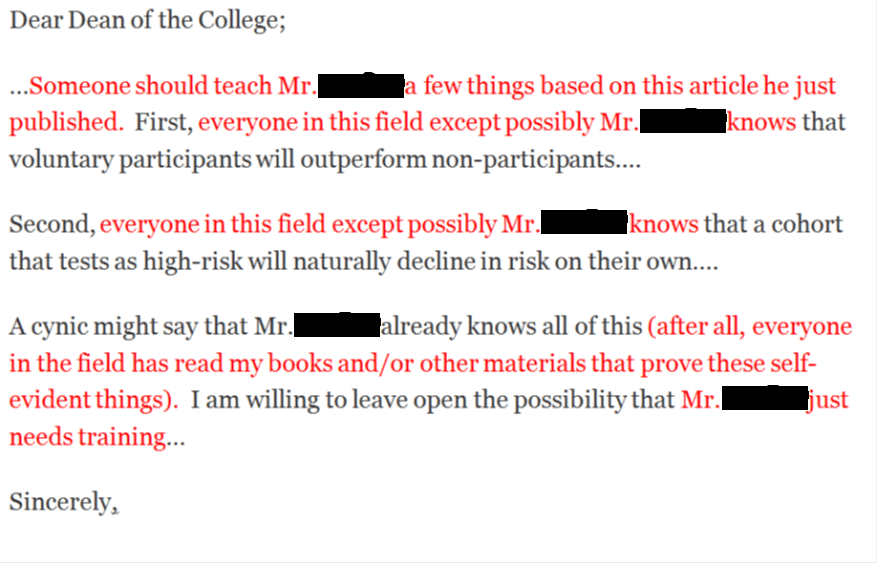 The wellness bullies don't actually publish research yet they claim to understand research methods better the scientists who do. You have to be pretty bold to call out one of the nation's best research scientists. Again, you would be hard pressed to find any peer-reviewed, empirically-based scientific papers published by these wellness bullies. However, they seem to be adept at writing blogs and trolling the web with inflammatory comments.
As expected, these critic letters have fallen on deaf ears. The universities who received these letters accurately and predictably recognized them to be nothing more than the sad rantings of a wellness bully. These same wellness critics claim that blogs are more important and accurate than the peer-reviewed science that is published in scientific journals. But this desire to rant and rave against academia raises a troubling question.
Who gets so upset by the results of a peer-reviewed research article that they would spend several months trying to get the authors of those articles fired? Would a normally adjusted person write such a letter? Who would even do that? This pattern of bullying behavior actually casts a considerable shadow on the credibility of these critics. The wellness industry, like any other industry needs civil and constructive dialogue to help drive improvement, but these actions are far from civil.
The Wellness Bullies Only Throw Rocks
Wellness bullies love to throw rocks at the research that is published. This is a common bullying tactic. All research studies have flaws. There is no such thing as a perfect study. This means that published scientific papers can produce entirely different results. This is why we so heavily depend on scientific consensus. Because there is never a perfect scientific paper, wellness bullies tend to cherry pick the scientific literature and ignore the findings that don't fit their criticisms.
This is the same method used by the tobacco industry when they said that there was "no randomized clinical scientific evidence that smoking is harmful" and they are correct. There has never been a randomized clinical trial studying the effects of smoking on humans but there is a body of evidence that is over 200 years old. Wellness bullies throw rocks at wellness research because every research study has weaknesses which they are quick to identify. The wellness industry has outstanding randomized clinical trials like the ones here and here that prove the effects of wellness, but this is completely ignored by the critics.
The wellness bullies are not interested in the truth, they are only interested in fighting. Despite the overwhelming scientific consensus provided by meta-analyses and literature reviews, wellness bullies cherry pick the weakest results and throw rocks.
As mentioned, valid criticisms of the wellness industry are needed. There is a constant effort to improve by wellness researchers, WellSteps and probably every other wellness vendor on the planet. Criticism provides valuable input that companies can use to improve. Researchers get criticism from journal editors and reviewers, professors get criticism when they apply for tenure, and vendors get useful criticism from customers.
Valid criticism is almost always a powerful force for good. It can be used as a constructive and meaningful way to improve. Unfortunately, the wellness bullies are not interested in constructive and meaningful ways to improve, they are only interested fighting and throwing rocks. To them, picking fights and watching the world burn is reward enough.
Wellness bullies thrive on disagreement. Truthfully, the scientific method provides much opportunity for that. But the wellness bullies pick away at the wellness research trying hard to cast doubt on the entire industry by pointing out reasons to doubt a few papers. Again, this is the same approach used by the tobacco industry in its effort to stop the regulation of tobacco. The wellness bullies do not care about preventing, reversing or treating chronic diseases, they only care about themselves. That's what bullies do best.
The wellness bullies are adamant that only they understand what wellness should be. They want everyone to believe that if you listen to anyone else, you have gone astray. They want you to believe that all wellness professionals are part of a gigantic conspiracy to steal money from unsuspecting customers. They claim that employee wellness programs are destroying the health of Americans and that they, the wellness bullies, are the only enlightened gurus on the planet.
If the wellness bullies are correct, then they must think that all the leaders of every company in America with a wellness program are idiots.
The Wellness Critics Code of Conduct
Even though the wellness critics claim that the wellness industry is a sham, they have announced a new code of wellness conduct.  I'm very interested in improving the quality and effectiveness of wellness programs. I don't know any wellness professional who would say otherwise. But I think I speak for all of us when I say that I have no interest in a code of conduct written by a gang of bullies. The wellness industry does not need a code of conduct, we have HIPAA and other laws to do that. What we really need is a code of conduct for wellness bullies. It could look something like this:
Wellness Bully Code of Conduct
1. Don't use extortion or blackmail. That's not nice.
2. Don't write threatening letters to everyone you don't like.
3. Instead of whining, how about proposing some realistic solutions?
4. Don't throw rocks. That just ticks people off.
5. Don't pick fights with everyone you confront. Nobody likes a bully.
6. A life spent being angry at everyone is a life utterly wasted.
Stand Up Against the Wellness Critics
I have been blessed to work in an industry that transforms and improves the lives of millions of individuals. Each day I give thanks for the opportunity I have to help people improve their health and live long, high-quality lives. I can't think of a more rewarding way to live my life. Most wellness professionals probably share these same feelings.
Next time you see a blog post, comment, email, or snide remark from one of the wellness bullies make a comment. Challenge them to suggest some positive solutions instead of just throwing rocks.  Nobody likes a bully.