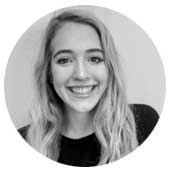 I have wanted to work in the wellness industry since I was 11. I began running and eating healthy and noticed a significant change in my mental state. Since then, I have always wanted to help people be able to improve mental health through diet and exercise.
I have a B.S. in Exercise and Wellness with Nutrition Minor.
I did an internship with WellSteps and loved what the company stands for and continued to work here!
Your Title Goes Here
Your content goes here. Edit or remove this text inline or in the module Content settings. You can also style every aspect of this content in the module Design settings and even apply custom CSS to this text in the module Advanced settings.
Contact Info
– Share a piece of advice for  someone looking to improve their overall wellness. –
"Keep going. You can do hard things."
Best Advice?
Start small. Just pick one habit at a time. Once you create a healthy routine it becomes almost impossible to stop. Getting through the first months can be hard, but once you do, it really becomes second nature.
Favorite WellSteps Tool?
I think the Sugar Busters Campaign is great! I don't think most people really understand what they are consuming.
Most important aspect of a Program?
I believe the most important aspect of a successful wellness program is creating lasting change through small and simple measures. I believe that helping participants create new habits can have a lasting impact.
Favorite Food or Recipe?
Favorite Recipe: Vegan Cashew Mac + Cheese with Broccoli and Hot Sauce is my comfort food, + I have eaten peanut butter toast and green juice everyday for breakfast for years
What are your hobbies?
Hiking, cooking, weight lifting, painting, getting outdoors with my dog and husband.
What are your favorite beaches?
My favorite stateside beaches are: Oceanside, San Diego and Old Orchard Beach Maine.