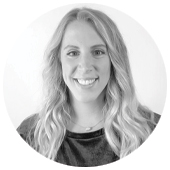 I always loved being active and found joy in living an active, healthy lifestyle. In college after learning about worksite wellness and working for different companies, I really enjoyed helping people in a worksite environment because they were able to improve their health, with the added benefit of knowing their employer values them and cares about their health as well.
I have been working at WellSteps for almost a decade. After learning more about worksite wellness in college, I did an internship with a company and was able to get first hand experience. I learned I really liked this field, and started at WellSteps right out of school!
I have a bachelor's degree in exercise and wellness, with a minor in business management.
Your Title Goes Here
Your content goes here. Edit or remove this text inline or in the module Content settings. You can also style every aspect of this content in the module Design settings and even apply custom CSS to this text in the module Advanced settings.
Contact Info
– What do you find most rewarding about your work in the wellness industry? –
"I love hearing stories from individuals who really dive all in with WellSteps and make the lifestyle changes. There are people that have completely changed their lives by the small decisions they make everyday, and that is by far the most rewarding part!"
What do you enjoy most about being a WellSteps Guide?
I enjoy the people I work with! I love my coworkers at WellSteps and the amazing coordinators I work with!
What do you believe is the most important aspect of a successful wellness program for clients?
I think one of the most important aspects of a successful program, is helping employees see the WHY behind it. Wellness is such a personal journey, and individuals need to think about that and why they want to improve their health and wellness. Employers that reward their employees well for participation, and make their employees feel valued in all aspects, tend to see greater participation as well.
Share a piece of advice you'd give to someone looking to improve their overall wellness:
Just move! Start small and don't think you have to start hitting the gym for an hour every day. Aim to get a few thousand more steps in than you are right now, and as you do that, you will want to keep it up and improve other areas of your health as well!
Favorite vacation destination?
My favorite place I've visited is Switzerland. It is breathtakingly beautiful!
What are some activities you enjoy outside of work?
I love sports! I love watching football and basketball. Pickleball is my favorite sport to play, along with volleyball. I enjoy hiking, traveling and being with my family.
Share a wellness tip that you swear by.
Drink that water! I love drinking a glass of water first thing in the morning. It helps me feel refreshed, hydrated, and ready to get the day rolling!
What's your favorite workout, healthy recipe, or go-to meal?
I love weight lifting! Nothing crazy, but give me some dumbbells and a bench and I'm good!