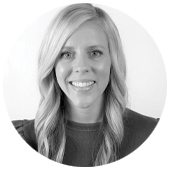 I have always loved being active and doing my best to live a healthy lifestly. Overtime that translated to being proactive about my metal, physical and nutritional health. I knew I loved helping others, and wanted to encourage them to live their best lives. I have a B.S. in Exercise Science with an emphasis in Exercise and Wellness.
I had actually planned to do dental hygiene and decided that was not really something I would feel satisfied doing. I thought long and hard about my passions: physical health, mental health, and helping others. I was not sure exactly what I wanted to do with this, but I instantly fell in love with the idea of the wellness industry and wanted to continue learning, growing and helping others do the same.
Your Title Goes Here
Your content goes here. Edit or remove this text inline or in the module Content settings. You can also style every aspect of this content in the module Design settings and even apply custom CSS to this text in the module Advanced settings.
Contact Info
– Share a piece of advice for  someone looking to improve their overall wellness. –
"Plan ahead, but always allow yourself some grace!"
What is your favorite WellSteps feature?
I love the challenges because they feel more interactive and you can make the groups as big or as small as you would like.
What is the most impactful aspect of a wellness program?
Having an engaged Coordinator and Wellness Committee who are passionate about wellness, and work to be the driving force to promote the program in conjunction with WellSteps!
What is your favorite thing about being a Guide?
I enjoy the creative aspect that goes along with program planning and building relationships with my clients. I love when I am able to hear success stories from clients whether that is small milestones hit or overcoming an obstacle they've been battling!
What is a wellness tip you swear by?
Plan ahead, but always allow yourself some grace! If you can plan ahead, you will set yourself up for success (schedule out must do items for your day–with flexibility, set exercise clothes out the night before, write out your weekly meals).
Share a piece of wellness advice.
Identify one area where you feel you are struggling or could improve and focus on 2-3 simple things you can implement daily. Start small and build once you have a few healthy habits in place.
What is your favorite ice cream flavor?
I love strawberry ice cream!
What are some activities you enjoy outside of work?
I enjoy being active and playing slow-pitch softball with my husband, pickleball, Can Slam, bike rides and swimming with my kids. I thrive when the weather is nice and I can spend most of my time outdoors.
What's your favorite workout?
As a working mom, it can be challenging to dedicate lots of time to fitness, so I am all about quick and effective workouts. My daily workouts consist of strength mixed with Plyo or HIIT.
If you could choose one word to describe yourself, what would it be?
Compassionate.